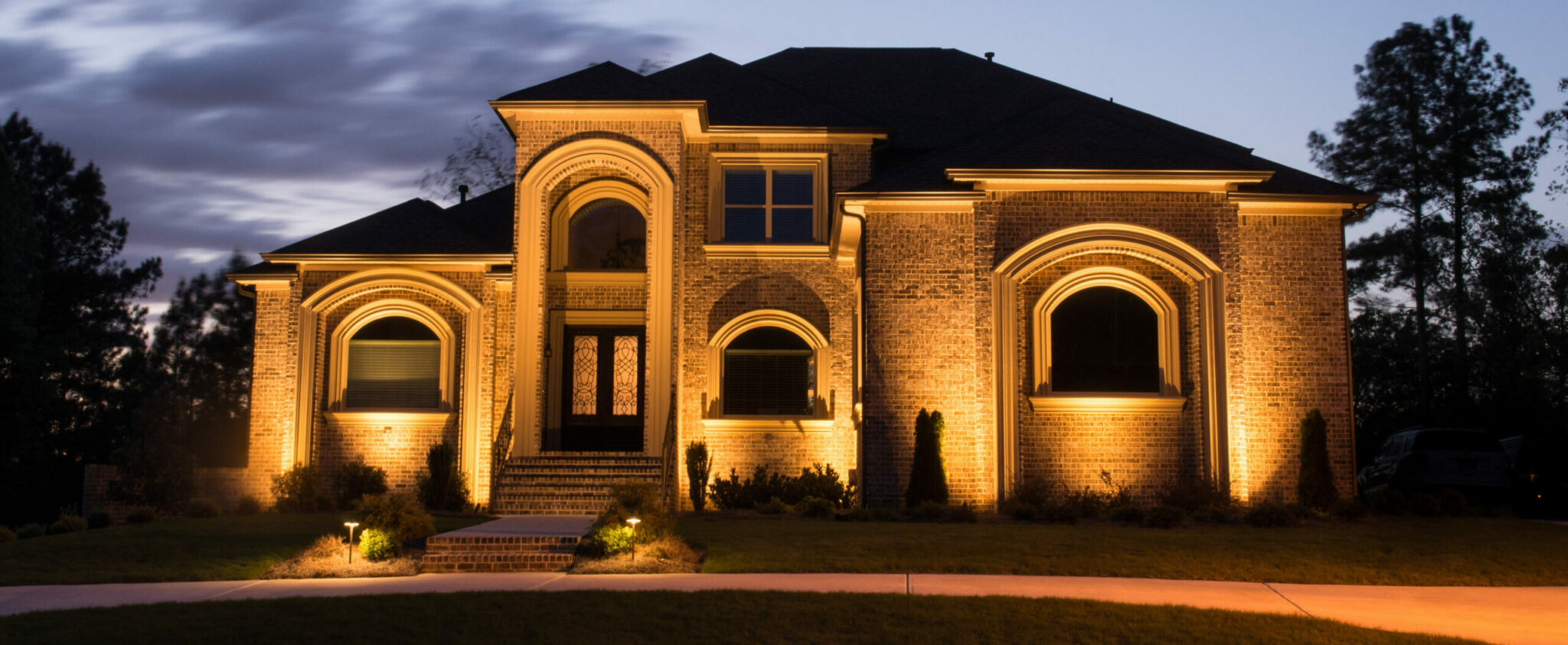 FAQs for Holiday Lighting
How much will Christmas lighting cost?
No two homes or designs are alike, which is why we offer free quoting. Home size and roof line can affect the price as well as the number of trees, bushes and trim items selected.  Prices for residential homes can range from $750 and up.  Commercial buildings can go even higher.  If you have a budget in mind, just let us know, our designers are experts in getting the best impact for the lighting of your home or business.
Will you hang my own lights?
We provide all of the supplies needed for our jolly technicians to design, install, and remove your holiday lighting display. Although we understand that many of our clientele already own Christmas lights, it is safer for our team to work with our proprietary and premium holiday lights and decorations.
Can you install Christmas decorations or take down on a specific date?
While we cannot guarantee a specific installation or take down date due to weather, with enough notice we can usually accommodate any special plans or needs you may have. Just let us know so we can work you in to meet your schedule. Keep in mind, the best dates go quickly and the season is short.
Does Coastal Carolina Lighting carry liability insurance specifically designed for Christmas decorating?
Coastal Carolina Lighting is fully insured, licensed and bonded.
Do we rent the Christmas decor, lease it or do we own it?
All décor is included in the price as well as the design, customization installation, service, take-down, and storage. Products are not sold to or owned by the client. We service, replace and update materials as necessary, allowing for new designs from year to year.
Is there a labor warranty just in case the lights stop working or there is a problem?
With Christmas Decor's Service One program, maintenance is included in the price. We will also conduct proactive service visits throughout the holiday season to make sure your program looks like it did the day we installed it. If you have any issues with your lights, you can submit a service ticket, and our team will make it a priority to be fixed.
Is there a difference between your Christmas lights and the ones I can buy at my local retailer?
Absolutely! Our decor is manufactured to our specifications—longer-life bulbs and extra fullness on all of our greenery. We also feature UL-rated, outdoor extension cords, a variety of property-friendly installation accessories and commercial-grade specialty décor. You won't find better quality anywhere!
What's the value?
It's priceless.  There are thousands of emergency room visits each holiday season from DIY decorators. Be safe this year and experience a hassle-free Holiday installation. Be sure to spend more time with your family and let us worry about untangling the lights.
FAQs for Outdoor Lighting
How much Energy is consumed?
It depends on the design of outdoor lighting that fits your needs. All outdoor lighting is run through a transformer that in most cases is 12 volts. With low voltage and the use of LED lighting, you will hardly notice this on your utility invoice.
What about my electric bill?
All of our systems have LED lights. These lights use a fraction of the energy when compared to incandescent and halogen. If you have one of these older systems, you could benefit in energy savings by switching to LED.
What is LED?
LED stands for Light Emitting Diode. An LED is an electronic device that emits light when an electrical current is passed through it. Modern LED lights now have the capability of RGBW (Red-Green-Blue-White) technology that allows the client to pick the color of their lighting for their cellphone.
What is RGBW?
Modern LED lights now have the capability of RGBW (Red-Green-Blue-White) technology that allows the client to pick the color of their lighting for their cellphone. We at Coastal Carolina Lighting are experienced in the installation of this new lighting phenomenon.
What is a transformer and why do I need one?
Standard household current is 120 volts. Outdoor lighting is mostly run on 12 volts systems. A transformer reduces the voltage to the proper level for our outdoor low voltage lighting systems.
Do I need to turn my lights on and off?
No. We use Astro timers in all of our outdoor lighting systems. These timers are programmable and specific to your zip code to come on at dusk.
What is a hub?
Hub is a type of connection that professionals use to minimize voltage drop in the system. Hub is an installation method that takes more time than daisy-chain and T-connection used by novices. Hub connection also allows for easier maintenance and future troubleshooting (if needed).
What are the warranties on the systems?
All fixtures come with an ironclad lifetime warranty. All lamps come with a 3 year warranty with the option of extended warranties through service plans.
What are service plans?
This is a yearly inspection on your system that is highly recommended by us to make sure your system is in perfect operating condition. These service plans are drafted specifically for your system.
Who is Meshtek®?
Meshtek® is a company formerly known as iLumi. iLumi pitched a deal on the show Shark Tank® about its color changing indoor light bulb. The company was awarded a deal with billionaire Mark Cuban and transformed into the Bluetooth meshing company known today as Meshtek®. Most of our RGBW lighting is partnered with Meshtek®.